Deciding between paying the mortgage or building your retirement nest egg is tough - what do you prioritise & how?
A large proportion of New Zealanders are dependent on their property values to fund their retirement. However, a report by the Commission for Financial Capability in 2019 revealed that of those aged 50 – 65, only 38% are mortgage-free and the number of people entering retirement with freehold homes has been declining for decades. Couple this with recently released research from Westpac Massey Fin-Ed Centre that shows that if a couple wants a 'choices' retirement in a major city, they're going to need a lump sum of around $787,000 to survive.
So do you focus on becoming mortgage-free or do you focus on retirement planning? Is it better to first become debt free – a hard task given the average Kiwi now has a mortgage of at least $400,000 – and then worry about retirement? On the other hand, there's the cost of waiting to invest. Thanks to the joys of compound interest, a dollar you invest today has more value than a dollar you invest five or 10 years from now. That's because it will be earning interest—and the interest will be earning interest—for a longer period of time.
The answer to this dilemma lies in the basic math of in versus out. You want to focus on paying off debt if it's likely to cost you more in interest than you might otherwise earn through investing. And you want to focus on investing if you think it's likely to earn you more than you'd otherwise pay in interest.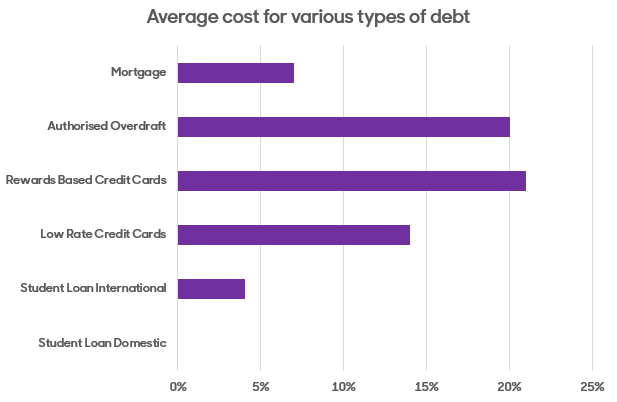 As we can see the average cost over the past 10 years for a mortgage has been about 7% which is lower than overdrafts and credit cards. Also, since a domestic student loan accrues no interest you can continue paying this at the minimum level for as long as it takes.
Now let's compare this to the average KiwiSaver returns. The latest report released by Morningstar on KiwiSaver suggests that over a period of the last ten years, the average Growth fund has given investors an annualised return of 9.9%, followed by an 8.2% return for Balanced funds and 6.2% returns for Conservative funds.
Effectively this means if you've invested your KiwiSaver in a growth fund, you have earned more in returns than you would have paid in interest on your mortgage.
But, a growth fund is not appropriate for everyone and not all funds perform the same in the long term. The above returns while the great need to be viewed with a grain of salt as we have been in an unprecedented 10-year long bull run where the capital markets have been growing significantly each year. Going ahead, it's unlikely we will see such strong performance repeat in the next ten years at least.
Life too is not all black and white. In between paying down the mortgage and saving for retirement are a bunch of other expenses that may come up or life goals you may wish to achieve like long-term travel as a family or saving up for your kids' education.
Our Suggested Priorities
First, maximise the free money
You may already know that if you contribute to your KiwiSaver, your employer is liable to match your contributions up to 3%. On top of this, the government also matches 50c to every dollar you contribute up to a maximum of $521/year. Assuming an average salary of $70,000 for a 30-year-old, an annual 3% contribution before tax equals to approximately $2100*. However, when you account your employer and government contributions into the picture, you are actually saving up $4621 into your nest egg, which is essentially double the amount!
Now compare this to stopping contributions and putting the same money into your mortgage. Not only will you first be taxed on this $2100 which means you have less toward your mortgage but you also miss out on the free money from